Memory in Education
A new book is published by College of Education faculty members.
Robert Z. Zheng and Michael K. Gardner, both Professors of Educational Psychology in the Educational Psychology Department of the College of Education, recently released a new book, Memory in Education. The authors are experts in the field of human memory and learning.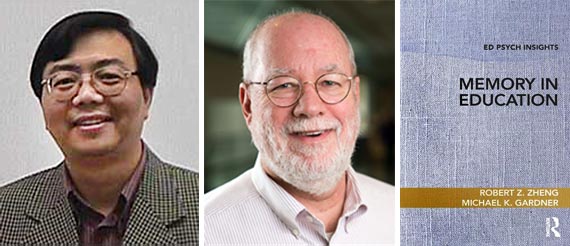 As our understanding of the human memory system broadens and develops, new opportunities arise for improving students' long-term knowledge retention in the classroom. This book explores how scientific models of memory and cognition can inform instructional practices.
Six chapters guide readers through the information processing model of memory, working and long-term memory, and Cognitive Load Theory (CLT) before addressing instructional strategies. This accessible, up-to-date volume is designed for any educational psychology or general education course that includes memory in the curriculum and will be indispensable for student researchers and both pre- and in-service teachers alike.
As James Curtin, Professor of Psychology at Catholic University of America, puts it, "Memory in Education makes a substantial contribution to the educational literature by articulating how theory and research explain and support multiple memory techniques. Among the many useful aspects of this text is the discussion of cognitive load theory. Knowing how to reduce extraneous cognitive load and increase positive, 'germane' cognitive load is especially important in addressing the complex information demands in education today. There is much in this text that can benefit both students and teachers."