RAISING SCHOLARSHIP MONEY TO BATTLE OPIOID ADDICTION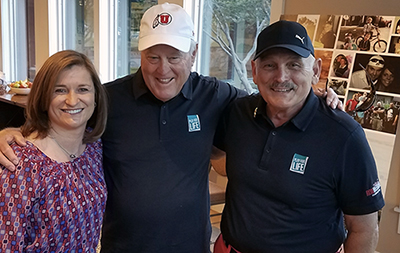 Each week in Utah, six to eight children and adults die from opioid overdose — the seventh highest overdose rate in the U.S.
On Monday, August 19, the Ron McBride Foundation, Utah Opioid Task Force and the University of Utah joined forces at the Hidden Valley Country Club to "Play for Life" and to continue the fight against opioid addiction in Utah. The Play for Life Tennyson Cecchini Memorial Golf Tournament is an annual event chaired by Dennis Cecchini, held in honor of his late son, Tennyson, who passed away as the result of a long battle with opioid addiction.
Scholarship funds raised at the tournament will be distributed to students in the University of Utah Colleges of Education, Social and Behavioral Sciences, Social Work and Nursing who are studying addiction treatment and early childhood development.
Scholarships will help committed students complete their education and begin the vital work of saving lives.
Former U football head coach, Salt Lake County Mayor Jenny Wilson, U.S. Representative John Curtis, Utah Opioid Task Force Co-Chair Brian Besser and media personality Randall Carlisle participated in a tee off and lunch ceremonies. Jill Lamping, represented the College of Education at the tournament.