College of Education Alumna receives 2018-2019 Teacher of the Year!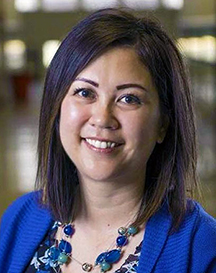 The Utah State Board of Education on Thursday, September 6, 2018, gave West High School social studies teacher Kellie May, the title of Teacher of the Year.
Kellie first graduated from the University of Utah in 1995, earning a Bachelor of Science in health education with a history teaching minor. The following August, Kellie was hired by Salt Lake City School District where she would begin her 23-year professional career.
Kellie returned to the University of Utah in 1997 to pursue her first Master's degree in Educational Studies. Later she was encouraged by an administrator to pursue an administrative license. This landed her back at the U and studying with cohort that would lead to a Master's degree in Educational Leadership and Policy.
from Deseret News, Ashley Imlay
Kellie May, of Murray, also teaches classes for Advancement Via Individual Determination, a nonprofit that helps prepare students for college. In addition, she teaches at Urban Institute for Teacher Education at the University of Utah, according to a news release from the State School Board.
"To say that she is a student advocate is an understatement. In her classroom, Ms. May provides traditionally underrepresented students with opportunities that allow them to achieve the academic success necessary for college access," said Mary Burbank, director of the Urban Institute for Teacher Education.
For one of those students, Martina Martinez of West High, "Ms. May has urged me to continue with higher education. She has motivated me at my darkest points to never give up on my dream," she said in the news release.
Comment on this story "She is an amazing teacher who inspires her students to thrive and become the best they can be," Martinez added.
As part of the award, May received a $10,000 check and will get to compete with other states' teachers of the year in a national competition, according to the release.
First runner-up for the award was Anjanette McNeeley, a kindergarten teacher at Layton Elementary School. Archer Birrell, a fourth-grade teacher at Hillside Elementary School, was named second runner-up, officials said.