Indigenous Education is for Everyone
2020 J. George Jones, Jr. and Velma Rife Jones Lecture Series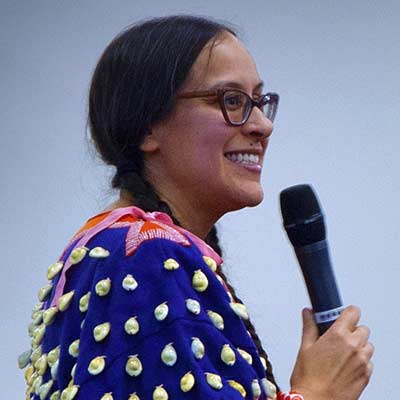 Michelle M. Jacob, PhD was the guest lecturer at the J. George Jones, Jr. and Velma Rife Jones Lecture Series. This year's lecture, sponsored by the Urban Institute for Teacher Education, was presented January 23 to a large crowd that filled the College of Education auditorium.
As a Professor of Indigenous Studies and Director of the Sapsik'ʷałá (Teacher) Education Program in the Department of Education Studies at the University of Oregon, Jacob is dedicated to teach and research in ways that empower communities by working towards social justice. She seeks to understand how indigenous peoples can be empowered to heal from wounds inflicted by colonialism. She is the author of two books: Yakima Rising and Indian Pilgrims, and co-editor of a third book, On Indian Ground: A Return to Indigenous Knowledge-Generating Hope, Leadership and Sovereignty through Education in the Northwest.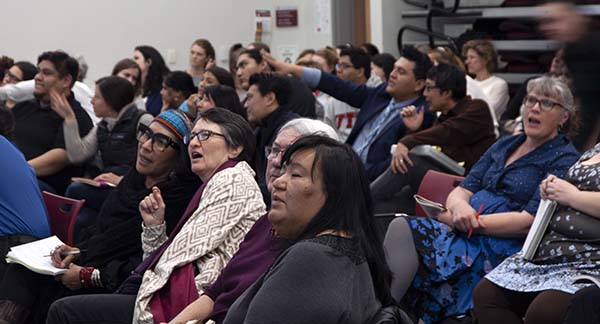 The topic of Jacob's well-received lecture was, Indigenous Education is for Everyone. She said all students, indigenous or not, can benefit from learning about indigenous cultures and a complete telling of the history that ties together indigenous people with more recent, non-indigenous, colonial arrivals.
She said, "It's harmful to be in the role of the oppressor, and it's harmful to be in the role of the oppressed." Present-day government officials and others, according to Jacob, are often unaware of treaty obligations to native peoples. Education about indigenous cultures can help create mutual respect that fosters understanding and cooperation between peoples.