Alayna Harris receives University Staff Excellence Award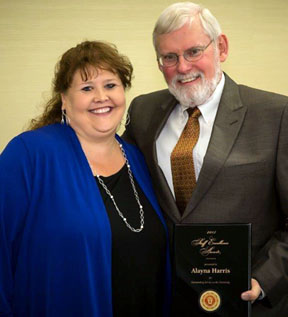 The University Staff Excellence Awards (USEA) program was established in 1992 to recognize superior service and ongoing contributions by the University of Utah's full-time staff employees. The six winners are selected by a committee coordinated by the Chair of the U of U Staff Council and approved by the Chief Human Resources Officer. Each winner receives a $5000 honorarium, a special plaque, and their name is added to a perpetual plaque which is permanently displayed in the Human Resources Building at 420 Wakara Way.
Among the recipients of campus awards there are six special staff awards that are designated for the absolute best models of competence, flexibility and service to their units and the campus community. Alayna was selected as one of the six remarkable staff members on campus who goes beyond her job classification to improve the quality of the lives of students, staff and faculty. This award also comes with a cash prize.
Cheers, Alayna, for the many years of dedication you have provided to the College of Education and the U. We are very proud that the university has recognized the power of your quiet and generous ways to improve the quality of life in the workplace. ~Dean María Fránquiz