Giving Day 2020
College of Education raises more than $5,000 in U Giving Day 2020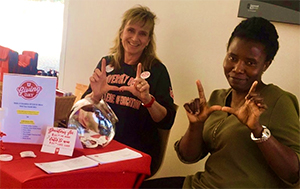 The College of Education participated in the second annual U Giving Day held on February 25-26. This was a 1,850 minute (to commemorate the 1850 founding of the university - about 77 hours!) fundraising and celebration effort. U Giving Day raised critical funding to ensure that the university continues to support the community and provide future students with opportunities to gain an education and the tools to succeed in life.
The College of Education raised just over $5,300 from 74 donors for the newly created Student Emergency Hardship Fund. This fund benefits students who find themselves dealing with an unexpected hardship or emergency and are in need of financial assistance. Funds may be used to pay for medical bills, rent, utility bills, food, tuition, books, and other needed expenses. Our goal was $3,000, so we were very pleased that we surpassed our goal with donations from our faculty, staff, alumni, and students.
A large part of our success was due to the fact that we had two challenge grants. The first was from an anonymous donor who would donate $500 if we received at least 20 donors in the first 3 hours. We ended up with 22! The second was from the College of Education Leadership Team, which includes the dean, associate dean, assistant dean, department chairs, and the development director. This grant matched the next $1,300 in donations, so a $20 gift, for example, became $40.
The results from the campus-wide effort were substantial! The U raised a total of $634,147 from 4,785 donors representing all 50 states and 11 countries. Donors contributed $333,500 for student scholarships, and $75,000 for campus student resources. We look forward to participating in next year's U Giving Day and raising even more money for our Student Emergency Hardship Fund.