Jeanette Misaka, Recipient of the 2013 Foreign Minister's Commendation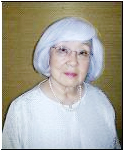 On Thursday, July 25 the Ministry of Foreign Affairs of Japan announced recipients of the Japanese Foreign Minister's Commendation for 2013, including two individuals from within the jurisdiction of the Consulate General of Japan in Denver. Dr. Jeanette Misaka of Salt Lake City, Utah and Mr. Ronald Otsuka of Denver, Colorado will be conferred with the Foreign Minister's Commendation for their outstanding contributions to the promotion of mutual understanding and goodwill between the people of Japan and the United States.
Each year the Ministry of Foreign Affairs of Japan selects worthy citizens to receive the Foreign Minister's Commendation, in recognition of those who have been working in various activities in international fields to contribute to the promotion of friendly relations between Japan and other countries. The commendation aims to honor outstanding achievement by individuals and groups in furthering greater understanding and support for good relations with the Japanese people.
Dr. Jeanette Misaka of Salt Lake City, Utah, is an alumnus of the U and emeritus clinical professor in the U Department of Special Education. Dr. Misaka has dedicated herself to various human rights issues such as the promotion of the rights of women, racial minorities and people with disabilities. She has particularly committed herself actively to the improvement of circumstances surrounding the rights of Japanese American citizens. She has been a dedicated member of the Japanese American Citizens League (JACL) since the early 1950's, and currently serves as a national JACL board member and as governor of the JACL Intermountain District Council. Dr. Misaka experienced the internment of Japanese American citizens during WWII at Heart Mountain Interment Camp in Wyoming, and is a member of the Advisory Council of the Heart Mountain Wyoming Foundation. She continues to be actively engaged with numerous cultural activities related to Japan and the Japanese American community, and her efforts are reflected in the continuing preservation of Japanese American history and greater mutual understanding within our national societies.
In keeping with the high ideals represented by this award, the Consulate-General of Japan at Denver is honored to offer its sincere congratulations to these dedicated individuals for this deserved recognition of their long service to the community. An official conferment ceremony will be held at the Residence of the Consul General in Denver in due course, to be announced at a later date.