2014 Huntsman Excellence in Education Award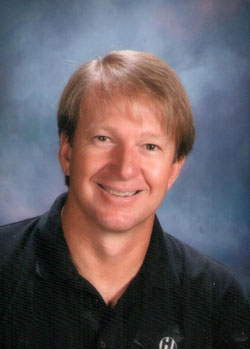 Kyle Bracken, a 2001 graduate of the College of Education's Secondary program, describes teaching as "something I love." Kyle is a teacher who truly cares about his students in ways that connect with each individual. Kyle's teaching has been described as dynamic and memorable in ways that exceed traditional instruction. A former student writes, "Mr. Bracken motivates his students to master subject matter so it becomes a part of how they think and live." When describing the impact of Kyle's role as a teacher a former student also wrote, "Mr. Bracken is the only teacher I have ever had who makes not just the student's education a priority, but the student as a whole." He has a sincere interest in his students' lives and goes above and beyond to help them achieve success."
Before entering the University of Utah's secondary teacher licensure program, Kyle was a ski instructor for 10 years at Snowbird and Alta. After completing his licensure program, Kyle accepted a position at Highland High School in the Salt Lake City School District. He taught the first course offered in AP World History at Highland. He went on to write a grant proposal in 2001 to create "Active Learning Lessons" for World History. Since his early years at the U of U Kyle received a Master's Degree in World History from the University of Utah and has co-taught summer institute course work including working with professors from the U of U (Professor Davies and Professor Severs) and at BYU. Kyle recently facilitated a summer workshop related to the Common Core and Social Studies instruction. He is currently teaching five sections of AP World History, one section of International Baccalaureate (20th Century World History Topics) and one Section of Honors Geography.
Congratulations to Kyle Bracken!!!