Partners For Diversity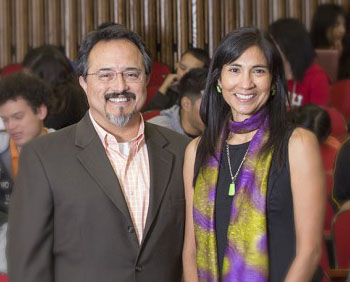 Octavio Villalpando and Dolores Delgado Bernal are partners, in life and in their work. They were both first-generation college students, and today they agree that their academic journey has been guided by a professional and personal passion to pursue academic work that can lead to social change.
Villalpando has been the associate vice president for Equity and Diversity at the University of Utah since early 2007, as well as a professor of Educational Leadership & Policy. He and Delgado Bernal—a professor of Education, Culture and Society as well as Ethnic Studies—met in graduate school at the University of California at Los Angeles, have been married for 17 years, and share scholarly interests in understanding—and achieving—racial, gender, sexual orientation, and class equity in education.
As the University's chief diversity officer, Villalpando has been a member of the president's cabinet and helped shape institutional policies and practices related to equity and diversity. He teaches courses in the areas of critical race theory and higher education, for which he has won Outstanding Faculty Teaching and Outstanding Faculty Research awards from the University's College of Education. He received master's and doctoral degrees from UCLA, where he also conducted research at the Higher Education Research Institute. He was one of the first recipients of a National Academies/Ford Foundation Postdoctoral Research Fellowship in the field of education, which led to his scholarship being cited in the 2003 U.S. Supreme Court decision on affirmative action in higher education admissions.
Read article at: Continuum magazine