Education in the Age of Biocapitalism
Clayton Pierce's book Education in the Age of Biocapitalism was awarded Outstanding Academic Title, 2014 by Choice. Every year, Choice subject editors single out for recognition the most significant print and electronic works reviewed during the previous year.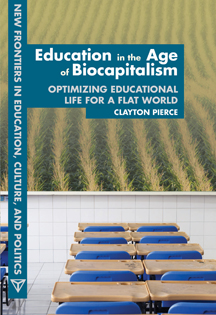 "Biocapitalism, an economic model built on finding and creating new commodities from existing forms of life, has fundamentally changed how we understand the boundaries between nature/culture and human/nonhuman. How should educators, students, and communities respond to things like the first genetically engineered animal made for human consumption, powerful new psychotropic drugs designed to target behavioral disorders, genetic explanations of learning and intelligence, and new methods of educational assessment interested in determining the added value of students and teachers in the classroom? Education in the Age of Biocapitalism is the first book to not only chart how education should respond to the historic challenges of living in a biocapitalist society, but also examines how human capital understandings of education are co-evolving with biocapitalism."
Congratulations, Clayton!