Lawmaker pushes expanded reading program in Ogden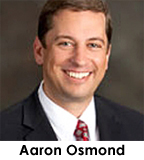 SALT LAKE CITY -- A Salt Lake County lawmaker wants to expand a University of Utah reading instruction program for grades K-3 to Ogden and Cedar City.
Citing the success of the program in its current location, Sen. Aaron Osmond, R-South Jordan, has proposed expanding a U of U reading clinic to Weber County and to southern Utah. He said the program partners with local schools to stress teacher professional development and facilitates direct student intervention.
He proposes $275,000 be used to set up the program in Ogden for the first year of operation and another $275,000 be spent in Cedar City to get the program operational. He said a bill in the 2014 session will proposed the program expansion.
He said he targeted Ogden and Cedar City based on demand and interest from local colleges wanting teachers to go through training and local schools asking for professional development.
"We know the need is there," Osmond said of the program in both proposed locations.
In a recent legislative committee meeting, Osmond proposed an increase in funding for the reading program and the expansion. He said he hopes to expand the focus of instruction to provide access to and instruction about effective use of technology-based tools.

The U of U clinic has been in place for 14 years, according to Kathleen Brown, who oversees the program and has shown measurable gains in each of those years.
Brown said the clinic has refined the art of teaching reading where they are able to raise a student's reading level by one grade in 45 days. She said the reading program includes phonics, sp
elling awareness, word recognition and work on fluency for the participating students.
Just as importantly, Brown said, the program offers teachers a chance to learn how to blend new technology in teaching reading skills. She said the programs offers up to 60 hours of clinical practices to teachers in helping them work with K-3 students and reading.
To date, Osmond claims the existing reading clinic has served more than 5,500 educators, in 35 school districts and 50 charter schools. He claims the program has also served 11,000 children with a measurable growth in 45 sessions, including English language learners. The clinic provides services year-round.
He said the reading clinics would provide teacher instruction on the use of technology for reading instruction using a blended learning or individual learning approach. The clinics would also provide the option of student reading remediation using technology to teacher readings skills in a blended learning or individual learning approach.
Brown claims the U of U clinic has built up infrastructure and expertise over the past decade to where the level of expertise in teaching reading is unrivaled in the nation.
Under the existing setup, the Ogden clinic would also provide a student with access to reading remediation and instruction via distance learning technology for those kids unable to regularly access a reading clinic location.
Besides funding for Ogden and Cedar City, Osmond also proposed the Salt Lake City reading clinic receive an additional appropriation of $425,000 per year based on the current need and waiting list.
The funding would more than double how much is spent on the program and that didn't sit well with Rep. Jim Nielson, R-Bountiful, who would rather see funding distributed to local districts to address reading programs.
Osmond said the concern about going through districts is the money saved skews the economy to scale and makes it difficult for some districts to access specialized learning opportunities.
"The very fact that it is centralized runs counter to my belief structure. I feel once again that the Legislature is stepping in. I would rather have school districts be the school district," Nielson said.