COE Adjunct Instructor wins Governor's Science Medal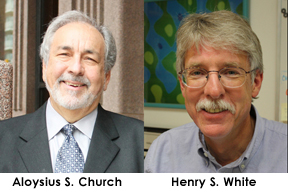 Two University of Utah faculty members – science educator Aloysius S. Church and chemist Henry S. White – are among seven winners of the 2013 Utah Governor's Medals for Science and Technology.
White recently spent six years chairing the university's highly ranked chemistry department. Church, while now working for the university, is known as the founder and first principal of AMES, the Academy for Math, Engineering and Science, based at Cottonwood High School.
A third winner – Larry Rigby of Larada Sciences – has close ties to the university. Some of the eight companies he founded are spinoffs based on university technology. Larada, for example, commercialized the successful head-louse treatment device developed at the university as the LouseBuster and now sold as AireAllé.
An awards ceremony for the winners will be held on Wednesday, Jan. 15, 2014, at The Leonardo museum in Salt Lake City. They will be honored by Utah Gov. Gary R. Herbert, State Science Advisor Carol Lynn George and the State Advisory Council on Science and Technology.