SPED Grad Student Kimberly Andersen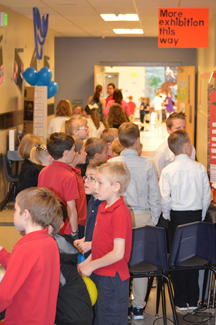 Congratulations to Kimberley Andersen for her efforts coordinating the Providence Hall Elementary school's annual International Baccalaureate (IB) PYP Exhibition. This research fair included all five classes of the fifth grade. It was a great way for students of all abilities to showcase their knowledge in their own unique way.

The Exhibition was constructed by the 5th grade students to encourage their help in the community. During a 4-6 week process students research topics they are concerned about such as pollution, cerebral palsy, animal abuse, distracted driving, toxic waste, etc. As students research they create a plan of action and enact it in their community to make a difference. This year there were 130 5th grade students participating the exhibition process. Students volunteered in many ways from community centers to animal shelters. On April 9th they presented their experience and findings to other students, parents and community members.
Kimberley is pursuing a master's degree and teacher certification in mild/moderate disabilities through the Department of Special Education.
For more information please contact Kimberley Andersen at
kandersen@providencehall.com.