Abby J. Gottsegen
Certified School Psychologist - Jordan School District
Independent Psychology Practice – Salt Lake City
Advancement Board Member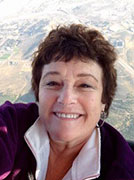 Abby has been a school psychologist, as well as having a private psychology practice, for over 37 years. She has also been a Clinical Assistant Professor of Educational Psychology at the University of Utah since 1985 and a Clinical Assistant Professor of Psychiatry at the University of Utah School of Medicine since 1990.
She received her Bachelor's in Psychology & Elementary Education from Skidmore College (New York), Master's in Psychology from Yeshiva University (New York), and PhD in School Psychology from Yeshiva University as well. She did a Postdoctoral residency in Salt Lake City with Psychology, Assessment & Psychotherapy Associates.
Abby is currently a School Psychologist in the Jordan School District and deals with elementary through post-high school students from multi-disabled populations. She also has an independent psychology practice in Salt Lake City. She is a Nationally Certified School Psychologist and is also a Licensed Psychologist in the state of Utah.
Abby has been a member of the Board of Director's for Discovery Gateway: The Children's Museum of Utah since 1995 and has also been a member of Junior League in Salt Lake City since 1992.