Agi Plenk
Alumna, Ph.D. Educational Psychology
Agnes M. Plenk,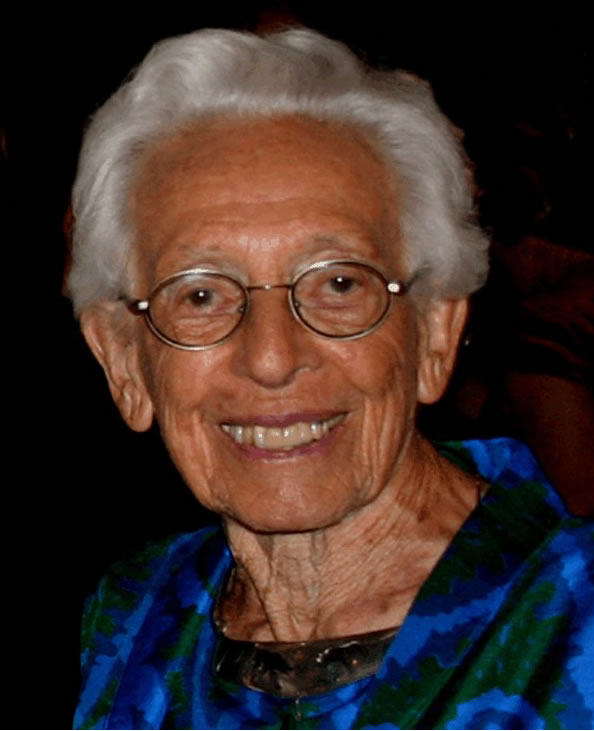 a lifetime advocate for children and founder of The Children's Center in Salt Lake City, died December 31, 2011 at age 95.
Born in Budapest, Hungary in 1916, she grew up in the home of her lawyer/journalist father and suffragette mother, but political upheaval meant a midnight move to Yugoslavia when she was three and then to Vienna in 1922.
In Vienna, she enjoyed, hiking, skiing, and walking in the Vienna Woods, as well as the vibrant urban and intellectual life of the city. She became involved in radical leftist politics.
Later she met and married fellow student Henry Plenk, who introduced her to Sigmund Freud's concepts. When Hitler took over Austria, street violence broke out between pro-Hitler and leftist groups, and emigrating quickly became a necessity. Agi and Henry were barely able to get out of Nazi Austria in 1938 to come to the US, leaving their families behind.
They settled in Chicago, where her brother lived and where Henry could complete medical school at Northwestern University. Agi worked at various jobs in Chicago to support the couple and to improve her English, eventually working as a secretary, switchboard operator, and finally as a research assistant at the Chicago Institute for Psychoanalysis. There Agi decided to become a psychologist herself, and working with a staff of skilled women, began to see the world from more of a feminist perspective.
She helped her parents adjust to life in the US after they were able to emigrate to Chicago in 1941.
Chicago was an exciting place during the 1940s, where Agi could see Paul Robeson, John Cage and other avant garde artists perform, as well as visit museums and attend films and lectures. Agi became interested in current literature, politics and performing interpretive dancing.
Agi became a US citizen in 1944 and moved around the U.S. with Henry after he was drafted into the US Army Medical Corps and before he left for the European theater in WW II.
Agi completed her B.A. degree in psychology at Northwestern and immediately began work on her master's degree there. While employed at the Institute for Juvenile Research at the University of Illinois, she first worked with troubled children. Agi completed her M.A. degree with work on the Thematic Apperception Test, a projective method of personality assessment.
After returning from WW II, Henry accepted a job in Salt Lake City where the mountains reminded them of Austria. With little knowledge of Utah or its culture, they moved there in 1947.
Agi began working as a child psychologist evaluating children for the State Industrial School, the Utah Department of Social Services and Neighborhood House, focusing her professional passion on children with emotional struggles. She also received an appointment at the University of Utah Department of Psychiatry.
Agi and Henry joined the Unitarian Church, raised three children and established friendships which have lasted for decades, based on books, hiking, tennis, skiing, attending Utah Symphony performances and shared political visions.
In 1949, Agi and Henry went to Aspen and fell in love with the area, going there yearly for the next 50 years to enjoy the mountains and attend concerts and lectures. Throughout their lives, Agi and Henry traveled widely, domestically and internationally.
After moving to Holladay in 1952, Agi and Henry helped create the Cottonwood Club, the Holladay Community Church, and a preschool there. Agi established The Children's Center in 1963 when she saw a growing need for a specialized preschool for children struggling with emotional issues, utilizing the group therapy and play techniques she had developed over the years. As the Executive Director, Agi served for the next 23 years, conducting annual fundraising efforts and overseeing the expansion to additional locations throughout the Salt Lake Valley.
Agi loved children and felt a great commitment to help improve the lives of children and families who lived with emotional and psychological pain. She was a tireless advocate for funding for preschoolers at the Legislature and for services to be afforded to very young children. She had a great gift for instilling hope in families who felt discouraged about the future of their children. Agi trained, supervised and mentored hundreds of undergraduate and graduate students, volunteers, and staff members. Many of them were inspired by their experiences at The Children's Center and went on to make substantial contributions in the field of children's mental health.
Agi earned her Ph.D. in Educational Psychology from the University of Utah in 1967.
Agi retired as Executive Director of The Children's Center in 1986 but continued to have an active professional life. She wrote Hold Fast to Dreams: A History of the Children's Center and its Role in the Salt Lake Community, 1962-1986. In 1993, she published a book summarizing her approach to treatment : Helping Young Children at Risk; A Psycho-Educational Approach. Agi was also the lead developer of the Plenk Story Telling Test (PST), a method of assessing the young child's emotional world.
The family would like to thank the many devoted professionals and staff of The Children's Center who supported Agi and her vision of giving children a voice and helping to guide their healing.
She is survived by her children and their families: Bruce (Patti Hartmann); Penny (Paul Dalrymple), grandchildren Peter (Nikki) and great granddaughter Ainsley, Elli (Nick); and Tim (Janet Axelrod), and grandchildren Eli and Stella. She was preceded in death by her husband Henry.