Ardeth Kapp
Alumna, B.S. Elementary Education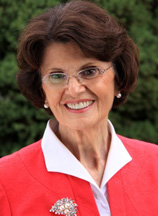 Author and lecturer, Ardeth served as the president of the LDS Church's Young Women organization (1984–92). She served with her husband Heber B. Kapp as he presided over the Canada Vancouver Mission. She was an institute teacher at the institute adjacent to the University of Utah. She and her husband also served as president and matron of the Cardston Alberta Temple.
She holds a bachelor's degree from the University of Utah and a masters in curriculum development from Brigham Young University. At BYU she was an instructor in the College of Education. Working with the Utah Education Network at the University of Utah, she wrote and produced two series of programs for the elementary schools in the state, Let's Take and Trip and Cultural Kaleidoscope.
Ardeth serves on several boards, including the editorial board of Deseret Book, Southern Virginia University, and Utah Youth Village. She and her husband are from Bountiful Utah and served as gospel doctrine teachers in their ward.