Aubri Moench
Alumna, B.S. Elementary Education & Former College of Education Advancement Board Member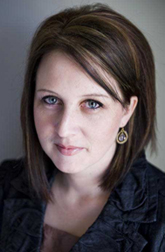 The daughter of a former University of Utah basketball player and a teacher, Aubri Cowan Moench feels fortunate that she was raised in the red and that she was raised on reading. Both have become important to her as an adult. Aubri is a Salt Lake City native who went from the circular halls of Brighton High to the University of Utah. She graduated from the University of Utah with a Bachelor's Degree in Elementary Education and worked as an elementary school teacher first in Salt Lake City, where she was nominated for the Sallie Mae Teacher Award. Later, teaching in Charlottesville, Virginia, she was amazed to have both a preparation period and a classroom with under 30 students.
Aubri obtained a Master's Degree in Reading Education from the prestigious Curry School of Education at the University of Virginia, where she studied with renowned reading experts. Aubri next moved to Palo Alto, California, where she learned that Silicon Valley children could log on to Google at age 2, but still needed reading tutoring. In 2010, she designed and implemented an original tutoring program at Oakridge Elementary dedicated to improving reading skills of struggling readers and training community volunteers.
In addition to keeping housewives around Salt Lake on their toes by frequenting several book clubs, Aubri finds joy reading to her 4 daughters, who she hopes will one day be able to read enough self-help books to make pre-teen drama a thing of the past. She enjoys teaching courses for the College of Education as an adjunct instructor and working in her daughters' classrooms. Aubri continues to support the University of Utah by participating in the Reading Clinic, serving on the College of Education Advancement Board and cheering extra loudly at athletic events. She is married to Dr. Matthew L. Moench. Aubri and her family live in Salt Lake City.