Bonnie Nelson
Alumna, B.S. Elementary Education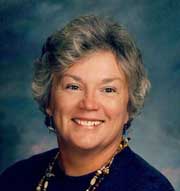 After having completed her academic studies in Elementary Education, Mrs. Nelson devoted twenty seven years of teaching experience in the Salt Lake and Granite school districts. She had served in several professional campus offices, including Secretary of the Junior Class, Vice President of Alpha Chi Omega, and Secretary of Mortar Board, in which organization she was elected President of the Mortar Board Alumnae Association in 1969. Mrs. Nelson was also voted in as President of the Beehive Honorary Alumnae Association.
Her teaching career began in 1961 with an appointment at Indian Hills Schools in the Salt Lake District, and this was followed by three years of Douglas School (1962–65) and another three years divided between Bonneville and Rosslyn Heights schools, also in the Salt Lake District. After one year of substitute teaching in the Granite Schools, she spent the next twenty years in that district at Cottonwood Elementary (1977–90) and Olympus Junior High (1990–98). During these years Mrs. Nelson received high commendations for masterful, creative work with young people, enriching their lives with enjoyable learning experiences both within and beyond the classroom setting, particularly in raising student consciousness about scientific and environmental issues and involving them in literary and dramatic activities. Her enthusiasm for gifted student workshops resulted in a series of highly successful study programs in 1984, the completion of a Gifted/Talented Endorsement from the University of Utah in 1987 and the granting of a State Award from the PTA as Teacher of the Year for 1989. Thereafter she conducted statewide gifted student workshops (to 1993).
Mrs. Nelson has been married to Arthur T. Nelson for 48 years. They have three children, Tom, Jeanne and Mike, and have four grandchildren.