Candace Cartwright Dee
Alumna, Ph.D. Educational Psychology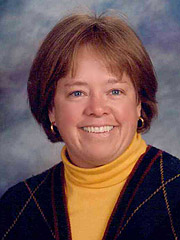 Candace Cartwright Dee, a Utah native, attended Lewis and Clark College in Portland, Oregon where she received dual undergraduate degrees in education and psychology. She received her master's degree in Special Education from the University of Washington and her doctoral degree from the University of Utah, College of Education, Department of Educational Psychology.
She has worked as a second grade teacher, a kindergarten teacher for behaviorally handicapped students, and as a therapist at The Children's Center, a school for emotionally troubled preschoolers. After completing her Ph.D. Candace worked as a school psychologist in Jordan School District in Sandy, Utah for 18 years. During that time, she also worked as a behavior specialist for the school district. In 2009, when Jordan District split creating the Canyons School District, Candace moved to the new district.
Throughout her career, Candace has been involved with the Utah Association of School Psychologists (UASP) and The National Association of School Psychologists (NASP). Candace has received both the School Psychologist of the Year Award and Distinguished Service Award from her colleagues in UASP. She has served on the boards of Utah Children, Children's Justice Center, The Children's Center, Red Butte Gardens, and the Utah Museum of Natural History. She and her husband served as chairs for the University of Utah Health Science Advocates.
Candace credits her husband, Tim Dee, with her education and involvement in philanthropy. Tim has followed his ancestors' tradition of giving back to the community in which you live. Together, they established an endowment in the College of Education, Department of Education Psychology providing scholarships to graduate level school psychology students. For these and other philanthropic deeds, they were awarded the Next Generation Spirit of Giving Award in 2006.
Candace and Tim have two grown children, Nathan and Matthew, who continue to amaze their parents with their accomplishments and interests in life.