Cleone Eccles
Alumna, B.S. Elementary Education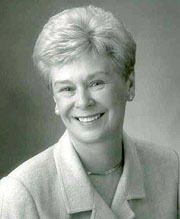 Cleone Eccles was a native of Fairview, Utah. After completing her degree in Elementary Education at the University of Utah in 1957, she taught second grade at Newman Elementary School in the Salt Lake City School District.
A well-known philanthropist and civic leader, Cleone strongly influenced the philanthropic efforts of the Eccles family at the U and throughout Utah. She was active throughout a wide variety of University of Utah organizations, including the Health Sciences, College of Nursing, Red Butte Garden and Arboretum, and KUED. She was Vice President of the U's Alumni Association and served for 10 years on the Board of Trustees.
Cleone was a sustaining member of the Junior League of Salt Lake as well as a board member of Ballet West and the Neighborhood House. She enjoyed skiing, gardening and golfing. She and her husband, Spencer F. Eccles, have four children and nine grandchildren.