Dawn Stevenson
Alumna, Administrative Certificate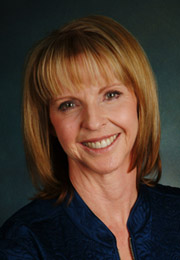 Dawn Stevenson is the Coordinator of K–12 School Counseling and Career Awareness and Student Services at the Utah State Office of Education. She has been a leader in the nearly state-wide Utah Comprehensive Counseling and Guidance Program since August 1998. Prior to that time, she was a counselor at Provo High in Provo, Utah, one of two programs receiving national recognition in the 1998 US Army Planning for Life Awards. She is a past president of the Utah School Counselor Association. She served on several national committees for the Transforming School Counseling Initiative and was a member of the national Task Force of the American School Counselor Association that developed the ASCA National Model: A Framework for School Counseling Programs.
Her most recent work has focused on the following major collaborative efforts: continuous improvement of school counseling programs through formal evaluation, improving school counselor to student ratios for students in grades 7–12, the implementation of positive behavior supports for students, and the Guidance and Counseling Subcommittee of the American Indian/ Alaska Native [Utah] State Education Task Force. She was also a member of the [Utah] Governor's Commission on High School, the CTE Career Pathways Implementation Team, USOE Response to Intervention State Team, and the Governor's 21st Century Workforce SMART Groups. She was named the 2009 ASCA School Counseling Director/Coordinator of the year.
Dawn earned her B.A. in English Teaching and an M.S. in School Counseling from Brigham Young University. She also completed the master's level program for an Administrative Certificate through the University of Utah. She serves as adjunct faculty for the school counselor education programs at Utah State University, University of North Dakota, and the University of Phoenix.