Dixie Snow Huefner
Alumna, M.S. Special Education; J.D. Law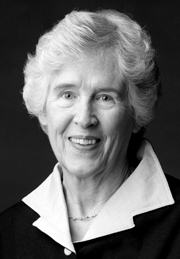 Dixie Snow Huefner's interests in public policy and public education led to a B.A. in political science from Wellesley College, an M.S. in special education and a J.D. from the U. She joined the special education faculty at the U. in a clinical role in 1977. After her 1986 law degree and Utah State Bar membership, Dixie clerked for the Honorable Stephen H. Anderson, U.S. Court of Appeals for the Tenth Circuit. Joining the tenure track faculty of the Special Education Department in 1990, her teaching and scholarship focused on special education law. As professor emerita, the 3rd edition of her book, Navigating Special Education Law and Policy, appeared in 2012. An essay on special education placements is part of a forthcoming book on special education issues.
Dixie's community engagement began as author of Salt Lake City Politics for Harvard Professor Edward Banfield's series on city politics; then moved to ghost author of the original report (The Missing Link) recommending the downtown construction of the Salt Palace and Symphony (Abravanel) Hall. She became a Board member of the Family CounselingCenter and the Governor's Developmental Disabilities Council, Chair of the Planning Committee of the United Way of Greater Salt Lake, and a founding member of the Learning Disabilities Association of Utah.
At a time of growing parental collaboration in school governance, she served as PTA President in her sons' elementary and intermediate schools and as Chair of the East High School Community Council. Among other involvements, she served as president of the U's Academic Senate and vice-chair of its semester transition council, as a board member of the National Organization on Legal Problems of Education, co-chair with Scott Matheson Jr. of Karen Shepherd's winning campaign for the U.S. House of Representatives, member of the Utah Legislature's Strategic Planning Task Force on Public and Higher Education, and chair of the Utah Parent Center. In retirement, she serves on the SLC Public Utilities Advisory Board, the Utah Citizens' Counsel, and is the Communications Chair of Utahns for Ethical Government. She says the latter role has brought her new notoriety—for good or ill. She received the 2011 Distinguished Woman of the Year award from the Salt Lake City branch of the American Association of University Women.