Douglas L. Christiansen
Alumnus, Ph.D. Educational Administration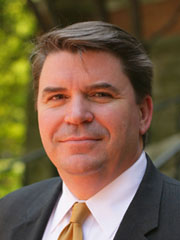 Douglas L. Christiansen is Vanderbilt University's vice provost for enrollment and dean of admissions, as well as assistant professor of public policy and higher education in the Department of Leadership, Policy and Organizations at Vanderbilt's Peabody College.
In his role as vice provost, Dr. Christiansen serves as the university's chief enrollment strategist, overseeing the offices of Undergraduate Admissions, Student Financial Aid and Undergraduate Scholarships, Enrollment Management Information Systems, University Registrar, and Vanderbilt Institutional Research Group (VIRG). He also oversees the Chancellors and Cornelius Vanderbilt scholarship programs and the POSSE scholars program. In addition, he is responsible for the development and implementation of a new 10-year strategic plan for all major student enterprise-wide computing systems that fall within the Provost's purview. Before joining Vanderbilt in the summer of 2006, he served as assistant vice president for enrollment management and dean of admissions at Purdue University in West Lafayette, Ind.
Prior to joining Purdue in 1995, Dr. Christiansen was associate director of Student Recruitment and High School Services at the University of Utah in Salt Lake City, where he earned a Ph.D. in higher education administration, a master's degree in public administration, and a bachelor's degree in political science.
Dr. Christiansen is a member of the College Board, the National Association for College Admissions Counselors, and the American Association of Collegiate Registrars and Admissions Officers. During his tenure in these organizations, he has given countless presentations at their state, regional, and national meetings. In addition, he was a member of The College Board's National Task Force on Admissions in the 21st Century, the Advanced Placement (AP) National Advisory Committee, on the Trustee-appointed membership committee for the College Board, and a member of the Colloquium Planning Committee. Dr. Christiansen has been appointed to several sub-committees and task forces on topics including access to higher education, ethical admissions, and financial aid practices. He also led Vanderbilt as a pilot member in the College Board's Access Success Initiative.
Dr. Christiansen consults with universities throughout the United States on enrollment management and revenue-generation funding models, and domestic and international recruitment strategies. He has conducted more than 120 consulting engagements working directly with presidents, trustees, enrollment professionals, and faculty on enrollment related issues. In addition to Dr. Christiansen's administrative responsibilities, he is an active professor and researcher, having taught at the university level for almost two decades.
Dr. Christiansen is currently serving as a member of the Board of Trustees for The College Board.