George L. Miller, Jr.
Alumnus, B.S. Special Education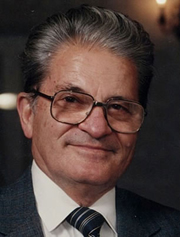 For Dr. George L. Miller, Jr., dedication to educational excellence led to a visit with the President of the United States. Dr. Miller, who received his PhD in education from the University of Utah in 1964, was Vice President of Lesley College and part of a team invited to the White House in May 1979 by President Jimmy Carter. The occasion was the unveiling of the school's planned National Center for Elementary School Economic Education, a project created by Dr. Miller. In addition to the Center, Dr. Miller created the Lesley College Graduate School and it's first curriculum. He also supervised the Graduate School's first Dean.
During his twenty years at Lesley College, Dr. Miller served in many capacities: Professor, Dean, Vice President and Acting President. Dr. Miller arrived at Lesley in 1964 when colleague Don Orton was named President of the college. Dr. Orton and Dr. Miller had worked together in Utah and shared similar ideas on education that were innovative for the times. Dr. Miller was assigned as "second in command" and the Orton administration is credited with building the framework for much of the success and growth that Lesley University enjoys today.
Born on a farm in Penrose, Utah, Dr. Miller knew early that he wanted to be an educator. A man of prodigious energy and unshakable integrity, Dr. Miller worked his way to the top of his field by starting in the classroom. His first teaching assignment was at the elementary school in Milford, Utah, where he met and in 1940 married fellow teacher Margaret Noble, a graduate of the University of Utah's teacher education program.
Several years later, Dr. Miller moved to Provo, Utah, where in 1949 he became the first principal of Wasatch Elementary School. In 1958, Dr. Miller accepted a position at the University of Utah as principal of the William Stewart Training School, the laboratory school of the University's Department of Education. (The William Stewart building on campus has since changed to other uses.) After receiving his PhD at the U, Dr. Miller accepted the position at Lesley College in Cambridge, Massachusetts.
Over the years, Dr. Miller served as president for many organizations, including the Massachusetts Association for Childhood Education, Massachusetts Association of Teachers Colleges, and the Utah Association of Childhood Education. Dr. Miller also served on the Board of Directors of the National Association for Supervision and Curriculum Development.
But Dr. Miller's busy life included more than his work. He raised five children. He stayed engaged with his large extended family. He loved the outdoors and relished activities like hiking, hunting, camping and skiing. He personally constructed the family home in Provo. He pursued his passion for gardening and his exquisitely landscaped back yard became a stop on the local garden tour. He applied his creative abilities to everything from writing poetry to fixing things around the house. His enthusiasm and kindness inspired great affection.
Dr. Miller died on February 23, 2012, in Winchester, Massachusetts, at the age of 94.