Lerue W. Winget
Alumnus, B.S., M.S. & Ed.D. Educational Administration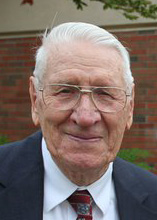 Dr. Lerue W. Winget is a retired Associate Superintendent of Public Instruction with Emeritus Status, having served in the public school system of the State of Utah for 37 years. Twenty-seven of those years were in the employment of the State Board of Education, as Director of Secondary Education for four years and then Associate Superintendent for 23 years.
Dr. Winget joined the staff of the state school office in 1957, following five years in the Army of the United States (rank captain) and 10 years as a math and science teacher and an elementary, junior high, and high school principal.
Over the years, Dr. Winget provided major leadership to the establishment of advanced placement and concurrent enrollment, reform of graduation requirements, revision of secondary school accreditation, statewide and regional research (past member of the Board of Directors, Far West Laboratory for Educational Research and Development), initial implementation of the Career Ladder Program, and improvement in the work of the State Teacher Certification Committee, the State Textbook Commission, and the State Curriculum Committee. He also gave leadership to the work of the Study Commission of the Council of Chief State School Officers, serving a term as Chairman and contributing on a long-term basis to its studies and publications. For his work with parents and students through the years, the Utah Congress of Parents and Teachers awarded him an Honorary Life Membership.
An author and contributor to numerous education-related publications, Dr. Winget also taught educational administration and secondary education on a frequent basis for Brigham Young University, the University of Utah, and Utah State University. On one occasion he visited and studied schools and school systems of several European countries.
Dr. Winget received his degrees from the University of Utah as follows: BS 1948, MS 1950, Ed D 1961. He is a member of Phi Beta Kappa and Phi Kappa Phi and served as an officer in the State Chapter of Phi Delta Kappa.
Since his retirement Dr. Winget has been involved in community service.