Linda Poulson Dunn
Alumna, B.S. Health/Secondary Education & M.Ed. Educational Administration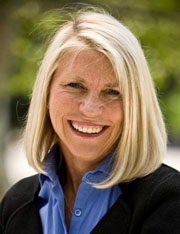 Linda began her teaching career in secondary education upon graduating from the College of Education at the University of Utah in 1981. From the outset she was naturally drawn to community partners, service-learning and community engaged teaching - even before those terms were coined. This greatly influenced her future as she became familiar with community needs and the benefits partnering provided to the learning process. These early opportunities and others that have followed have only fueled her commitment to give back to our community and help empower students to do the same. All this experience has forged her personal philosophy that a life well lived is a life that actively gives back.
In 1990, she returned to the University of Utah to pursue a Master's degree in Educational Administration. The degree was timely in that it prepared her for the opportunity to lead Utah Campus Compact as the Executive Director from 2003-2007. This experience increased her knowledge and experience with Higher Education, as she worked closely with all the colleges and universities in the State. Specifically she was able to assist presidents in promoting service-learning and student participation in civic and community service. During her tenure she worked with hundreds of faculty across the state helping them to understand and implement academic service-learning. She also planned and executed many successful conferences, colloquia and other professional development events. Linda is motivated by the role of collaborator and has had extensive opportunities to bring multiple stake holders together to work for a common cause.
In conclusion, Linda has an inherent and profound sense of the value of service. On a personal note, her life has been blessed by opportunities to not only serve, but to expose others to this rich and rewarding approach to life.
Linda was hired in May 2008 to be the Director of the Lowell Bennion Community Service Center and work to continue the wonderful legacy the center has developed over the past twenty years. Linda has found herself stimulated by the evolving nature of volunteer service, academic service-learning and civic engagement. She is working hard to continue to have the Bennion Center as the benchmark of community service and academic service-learning among institutions of higher learning.
From her earliest days as a secondary teacher to the vast and varied personal and professional experiences since then, Linda is honored to work alongside engaged learners and scholars and community partners through the work of the Bennion Center.
Personal: Married to Michael A. Dunn; proud mother of three children: Jeffrey, Braden and Emily, all University of Utah alums or current students.