Mark C. Hampton
Alumnus, Ph.D. Educational Leadership & Policy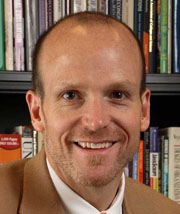 Mark Hampton serves as Associate Dean for Management and Finance in the Curry School of Education at the University of Virginia in Charlottesville, Virginia, as well as treasurer of the Curry School Foundation. In 1992, Mark began a full-time administrative position at the University of Utah as a planning and policy analyst. He then served as the University of Utah's Manager of Budget Operations and Information, and later directed its Office of Institutional Analysis. In 1999, he left the U to serve as Director of Institutional Effectiveness at the State Council of Higher Education for Virginia (SCHEV) and has since served as Director of Research Information Systems and, most recently, Associate Vice Provost for Strategic Planning and Director of the Center for Institutional Effectiveness at Virginia Commonwealth University in Richmond, Virginia.
Mark received a B.A. in mathematics in 1986 and an M.Stat. in mathematics in 1992, both from the University of Utah. While a student at the U, Mark volunteered with the Lowell Bennion Community Service Center and directed public relations efforts for the Bennion Center for two years. Mark also volunteered for Salt Lake City radio station 91FM KRCL and for five years, produced and co-hosted KRCL's live public affairs program "In the Opinion Of."
Mark was awarded the Roald F. and Della J. Campbell Fellowship in Educational Leadership and Policy in 1998.
Mark is a competitive runner, swimmer, and triathlete and has finished seven marathons, including the Boston Marathon. Mark lives in both Richmond and Charlottesville, Virginia with his partner, Jay Alexander.