Matt Nelson
Alumnus, B.S. Special Education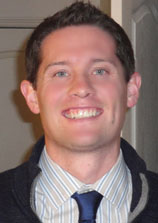 Matt graduated from the U in 2005 with a B.S. in severe/profound and then worked primarily at Parkside Elementary as team leader. He completed his Master's Degree at the University of Utah in Educational Leadership and Policy in 2012, and soon thereafter became the Principal at Grant Elementary, where he still works.
In November of 2011 the state office put out a request for grant proposals that would use technology in innovative ways. A maximum of $50,000 could be requested for a school. Matt was team lead on a grant proposal that would create a video podcast library of effective teacher instruction and make them available online for parents to access and on Ipods for students to preview/review at school. The goal of this project is to have teacher specific videos made available to the Parkside community in order to create trust and transparency about what is going on in the classroom. Only 7 grants were awarded in the entire state and besides Jordan school district, Parkside was awarded the most money. The money has now been spent and the real work begins to make this ambitious project a success.
Matt was also named the 2011-2012 Murray City School District teacher of the year. He has offered opportunities to his students that allow independence and self-motivation. He continues to be strength to the special education community.