Olene Walker
Alumna, Ph.D. Educational Administration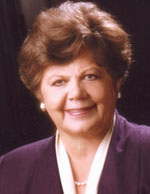 Olene Walker was the former Governor of the State of Utah and the first woman to occupy that position. She held the position of Lieutenant Governor, under Governor Mike Leavitt, for eleven years. She obtained her bachelor's, master's, and doctorate degrees from Brigham Young University, Stanford University and the University of Utah.
Olene formerly served as a member of the Utah House of Representatives, where she held the leadership posts of assistant majority whip and majority whip. She spearheaded the Healthcare Reform Task Force that resulted in establishing the Children's Health Insurance Program (CHIP), promising affordable health care for Utah's children. Walker also served as Chair of the Workforce Task Force, resulting in the development of the Department of Workforce Services. In 1985, she sponsored a bill to create Utah's "Rainy Day Fund", which has helped the state get through more than one economic slowdown.
Prior to being elected Lieutenant Governor, Olene founded and served as director of the Salt Lake Education Foundation. She also served for many years as the vice president of a family business, Country Crisp Foods. In 2004 she received the University of Utah's prestigious Founders Day Distinguished Alumna Award, and in 2005 she was inducted into the University of Utah's Hinckley Institute of Politics Hall of Fame, which honors distinguished politicians who display an outstanding contribution to politics and public service in the State of Utah.
Olene Walker passed away on November 28, 2015.