Richard Kendell
Alumnus, Educational Leadership & Policy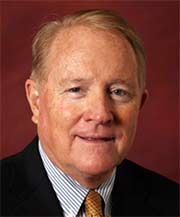 Richard Kendell, former commissioner of the Utah System of Higher Education, was named Southern Utah University's interim president Friday, May 17, 2013, holding SUU's presidential spot until an official replacement was made. Kendell took over July 8 for Michael T. Benson, who is leaving SUU to become Eastern Kentucky University's president.
Dr. Kendell has a 35-year professional career, highlighted by his time as the commissioner of the USHE. He was an associate dean for two different schools at Utah. He was also the deputy to Governor Michael O. Leavitt for public education, higher education and economic development, among other various positions throughout his career.
He earned a Bachelor of Science in English at Weber State, then a Master's degree and Ph.D. in Leadership and Policy at the University of Utah. He has worked as a high school English teacher and as a faculty member and associate dean in both the College of Education and the Graduate School at the University of Utah. He served as Superintendent of Davis School District in Farmington, Utah and as Utah Associate Superintendent of Public Instruction. Richard has also worked in private industry as research and development director for WICAT Educational Systems and as a project manager for hospital and health care facilities for the Boyer Company.
Later, he served as Deputy for Public Education, Higher Education and Economic Development to Utah Governor Mike Leavitt. During his tenure he helped initiate six early-college high schools (high-tech high schools) with a $ 3.6 million grant from the Bill and Melinda Gates Foundation and assisted with the development of supportive charter school legislation. Along with an advisory board appointed by the Governor he developed the initial programs for the Professional Educator Job Enhancement Program (PEJEP) intended to attract and retain a stronger corps of math and science teachers. Following his service with Governor Leavitt he was appointed by the Utah Board of Regents as Commissioner of Higher Education for the state of Utah beginning in 2003 and concluding in January of 2008. During this time he was involved in USTAR legislation, the creation of the K–16 Alliance, and the development of the Regents Scholarship.
His work in education has been acknowledged by several organizations. While Davis District Superintendent, he was named Administrator of the Year by the Utah Education Association. Later, he was named by his colleagues as Superintendent of the Year for the State of Utah and was one of four finalists for National Superintendent of the Year. The newly constructed Davis School District Administration Building was named the Richard E. Kendell Building in honor of his distinguished service as the district's superintendent.
In higher education, he was honored by the Trustees of Weber State University with the Lewis W. Shurtleff award (2003) and an honorary Doctorate of Humanities Degree in 2008. In 2007 the Trustees of Southern Utah University created the Richard E. Kendell endowed chair in education and public policy.
At the University of Utah, the Department of Educational Leadership and Policy awarded him the 2005 Educational Leadership Award. And in 2009 the University of Utah Alumni Association recognized him as a distinguished alumni at the annual Founders Day celebration.
On a more personal level, Richard and his wife Joan are the parents of four married children. Children and spouses, with one exception, hold degrees from the University of Utah. They have 12 grandchildren. Based on Utah logo clothing alone, there is little doubt that these grandchildren will follow in their parents ( and grandparents) footsteps at the University of Utah.