Rie Rogers Mitchell
Alumna, M.S. Counseling/Educational Psychology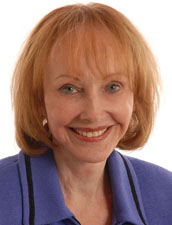 Rie Rogers Mitchell came to the University of Utah as a sophomore after one year at Mills College in Oakland, CA. She selected the University because of its wide and varied curriculum, and her grandmother, who had received a teaching diploma from the University in the 1890s, spoke so highly of her experience there.
Rie received a B.S. degree in social science and a M.S. degree in counseling/educational psychology, College of Education, from the University of Utah. As a junior, she married Rex C Mitchell, a doctoral candidate in chemical engineering. At that time, they were one of very few married couples who were both attending the university.
While at the University, Rie was active in Delta Gamma Sorority, served on Panhellenic and the A.S. Senate, and was elected Vice President of the Association of Women Students (AWS) and later as the AWS Regional Director. She also served in leadership roles in Mu Phi Epsilon, AS Leadership Committee, Campus Chest, and Symphony Debs. She was elected to Cwean and Mortar Board, and was chosen as one of the Women of the Year in1962 by the University.
After receiving advanced degrees from the University, Rie and Rex moved to San Diego, CA, where Rie taught high school and Rex worked in the aerospace industry. After two years, they again moved this time to Los Angeles, where Rie received a M.A. degree in psychology and a Ph.D. in counseling psychology from UCLA.
For two years Rie worked as a school psychologist and then joined the faculty at California State University, Northridge (CSUN) in the Department of Educational Psychology and Counseling. For the past 40 years, she has prepared graduate students as marriage, family, and child counselors, and has served as chair of her department for 10 years, as well as an Executive Assistant to two university presidents: at Cal State Northridge and Cal State Dominguez Hills.
Rie is also a licensed psychologist with a private practice, and she holds diplomate status from the American Board of Professor Psychology (ABPP), as well as registration as a play therapist and certification as a sandplay therapist. She has published on a variety of topics, including child counseling, group therapy, information competence, and two books on sandplay therapy. At CSUN, she received the Distinguished Teaching Award and, from the Association of Counselor Education and Supervision, she was honored to receive the Professional Leadership Award for her service to women in higher education.
Rex received a second Ph.D., this time in management from UCLA, and he has just retired as professor and chair of the Department of Management at Cal State Northridge. Rex and Rie have one son, Scott, who is currently a graduate student in experimental psychology at CSUN. Rie has just been elected president of the International Society of Sandplay Therapy. She is honored to hold that position for the next 4-8 years, and she is excited about teaching and visiting her friends and colleagues worldwide.