Stephen H. Hess
Alumnus, M.Ed. Instructional Systems and Learning Resources & Ph.D. Educational Administration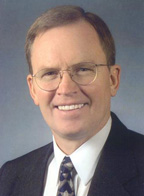 Stephen Hess is the Chief Information Officer (CIO) of the University of Utah responsible for operations, governance and strategic direction of campus academic, administrative and research Information Technology (IT). He is also the CIO of Utah System of Higher Education where he leads the other colleges in statewide IT initiatives.
Stephen previously served as the Associate Academic Vice President for Information Technology and as Executive Director of Media Services and the Utah Education Network. As the Executive Director of Media Services and the Utah Education Network he lead a talented group of individuals in the development of the state of Utah's extensive computer, satellite and interactive television networks connecting all public K–12 schools, colleges and universities, libraries, applied technology centers and state government. He was also responsible for the media and broadcast properties of the University of Utah, Instructional Media Services and the University of Utah Press. Steve also served as the Assistant Vice President of University and Student Relations.
Stephen holds adjunct faculty appointments in the Graduate School of Education and the Department of Communications, where he teaches and advises doctoral students. Steve's teaching and administrative career spans a period of more than 35 years at the University of Utah. Stephen has also published many articles and chapters in book on the impact of media and information technology on higher education.
Stephen's interest in media and technology began when he was student teaching. He was surprised at the small number of educational materials and technology available for teachers. At that point he decided to pursue a career in the use of media and technology to improve teaching, administration and research, and the overall educational experience for faculty, students and staff in public and higher education.