Walter Evan McPhie
Professor Emeritus University of Utah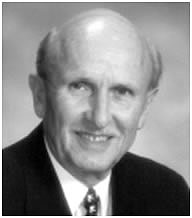 After graduating from Ogden High School 1944, Walt McPhie (1926–2009) served in the Army Air Corps from 1944–46. He later graduated from Weber Jr. College, Utah State University, University of Utah, and Stanford University. Walt loved teaching. He taught in the public schools of Utah and California 1953–1957; and held professorial rank and/or administrative positions at Brigham Young University 1959–63; Haile Selassie I University, Addis Ababa, Ethiopia 1963–65, 1967–68, 1970; and University of Utah 1965–96.
A devoted member of The Church of Jesus Christ of Latter-day Saints, Walt served a mission in France, Belgium, and Switzerland 1947-49. He and his wife Marilyn were privileged to sing as members of the Mormon Tabernacle Choir, he for 15 years and she for 22. His work in international education, along with his mission, Choir membership, and his love of travel, gave him the opportunity to visit five continents and over 70 countries — actually living for several years in both Europe and Africa. In 1985 he was assistant director of a tour to Egypt and Israel for teachers. The following year he visited China, with whose people and culture he bonded almost immediately. Subsequently, he developed international seminars for educators which were followed by summer tours to the countries studied. These tours included 14 visits to China, Russia, and Japan. Walt was convinced that it was through these international efforts that he made his most significant contribution as an educator, by exposing hundreds of teachers to different world cultures, who, in turn, affected the lives of thousands of students.
Walt married the love of his life, Marilyn Jones, in the Logan Temple, 1951. They were blessed with four wonderful children and celebrated their 58th wedding anniversary July 6, 2009. Walt enjoyed traveling, reading, and fishing especially in Montana with his boys.